Stater Global Markets launches as new Prime-of-Prime FX brokerage LeapRate Exclusive Interview
Stater Global Markets launches as new Prime-of-Prime FX brokerage LeapRate Exclusive Interview
Screenshot of a breaking news alert e-mail from Q2 2017
Please check your email to confirm your subscription
We hate SPAM and promise to keep your email address safex
LeapRate Exclusive Interview LeapRate has learned that former Citi,IGand Integral executive Ramy Soliman has been appointed CEO of a new FCA regulated London based Prime of Prime Brokerage, calledStater Global Markets.
Backed by Stater Holdings in New Zealand, Stater Global Markets will be offering clients institutional access to the FX market, with direct access to top tier bank and non-bank liquidity, market leading technology solutions and world-class infrastructure.
Soliman was most recently VP EMEA Sales at Integral Development Corp. From 2010-2015 he was with Citi heading EMEA Margin FX Sales. He has also worked as a dealer and in Institutional Sales at IG Group Holdings plc (LON:IGG).
So how will Stater compete with the big boys in FX Prime brokerage?
What exactly is the difference between a Prime Broker, and Prime-of-Prime?
We had the chance to speak with Ramy about getting Stater off the ground. Heres what he had to say.
Ramy: Thank you, very kind. Stater Holdings is a holding company formed for the intention of entering into the Financial Markets, specifically the FX Market. The decision to launch Stater Global Markets resulted mainly from my time at Citi on the Margin FX business. I saw how the space had become very sophisticated and the offering from our desk catered to this growing client segment (from mid-sized funds to retailbrokersto professional traders).
When the CitiFX business ceased in 2015, I saw a need for a firm that could fill that void. Post SNB, with the retraction in the credit environment, this became more evident and Stater Global Markets was created and developed to capitalise on the market conditions and address a gap which I had identified in the Prime of Prime space.
LR: Can you please explain to our audience the difference between a Prime Broker, and a Prime-of-Prime. How do they differ, and where do each fit into the FX value chain?
Ramy: An excellent question and the subject of many a talk in itself on what is Prime of Prime? The basic functions of a Prime Broker and a true Prime of Prime are similar, namely:
In the Prime of Prime space, there are variations on this theme a Prime of Prime may also offer clients their Prime Broker derived liquidity as a packaged offering or technology solutions (like a white label) for a turnkey solution.
I would say the differentiator here is the client audience. The balance sheet requirements for clients to have a top tier PB means that those clients will generally have their own liquidity relationships, aggregation technology etc. In the Prime of Prime space, the nature of some customers means that the Prime of Prime broker should be able to offer a wide range of additional solutions to help the client achieve their objectives, whether credit intermediation; intermediation plus liquidity; or credit, liquidity and technology.
LR: Youll be competing against some fairly large and established competitors in FX Prime of Prime. How do you carve out a niche for Stater Global Markets? What is Staters key value proposition? What will be your target client type?
Ramy: Youre right. Its a competitive space. I think that the blend of attributes that Stater Global Markets can offer differentiates us. We are a specialist Prime of Prime (not part of a wider franchise), we are a matched principal so our clients are trading directly with our liquidity providers (this also means counterparty risk is reduced) and we focus on packaging the best technology. Our team has decades of experience in this specific sector at top institutions and we look forward to helping our clients utilise that to their benefit.
In addition to servicing professional traders and mid-size institutional clients such as retail aggregators and funds, I see Stater being able to cater for customers that wish to become liquidity makers (this could be ex-bank traders or small proprietary firms with a successful model for providing liquidity). Offering credit intermediation allied to venue access gives clients the ability to distribute their liquidity to a wider audience.
LR: After having worked at some fairly large financial institutions for most of your career (IG, Citi, most recently Integral), whats it like to be part of a startup?
Ramy: Very exciting!! Ive been blessed to work at three market leaders in the industry and I have seen how these companies have grown and succeeded. I hope to take the lessons Ive learned and implement them in my own vision at Stater Global Markets.
LR: How do you see theFX brokerageindustry changing in the coming months?
Ramy: Post SNB, the industry has been in flux. I think that a lot of things need to resolve themselves at the Prime Broker level regarding credit appetite. I believe there will be closer scrutiny by Prime Brokers of their clients business models. Ultimately, a Prime of Prime is a custodian of the credit access that their Prime is extending and therefore the Prime of Prime has a responsibility to act in a prudent way. Progress in technology has helped to give institutions the comfort they require but a heightened appreciation of how the retail industry operates has helped too.
In the retail space, the volumes are still strong. In terms of trends, it looks like there has been less take up of social trading technology than previously thought and there has been some consolidation amongst providers. Its a very fluid but dynamic sector, with a lot of talented people. In terms of technology, I believe the space will evolve towards the latest iteration of MetaQuotes MT5, though given the strength of the MT4 platform, this may be played out over a longer period.
Gain Capitals GTX September FX volumes rise 19% MoM to $11.5 billion ADV
FastMatch hires GFT veteran Gareth Thomas as Director of Sales
Equiti Group teams up with Saudi Arabias Riyad Bank for FX liquidity
Daily market commentary: The pound keeps on gaining
The German economy is coming back from the brink
Daily market commentary: EU indices in the red today
LeapRate is an independent research and advisory firm, specialized in covering the world of Forex trading. We are followed by hundreds of thousands of traders, investors and other FX industry participants via our website, Facebook, Twitter, LinkedIn, RSS and Email Newsletter.
Gain Capitals GTX September FX volumes rise 19% MoM to $11.5 billion ADV
Continuing the parade of healthy September FX trading volume reports, GTX – the institutional FX arm of retail forex broker Gain Capital Holdings Inc
Stater Global Markets launches as new Prime-of-Prime FX brokerage – LeapRate Exclusive Interview
Join now to receive first access to our EXCLUSIVE reports and updates.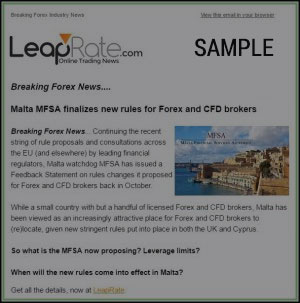 Screenshot of a breaking news alert e-mail from Q2 2017
Please check your email to confirm your subscription
We hate SPAM and promise to keep your email address safe
FastMatch hires GFT veteran Gareth Thomas as Director of Sales
FastMatch has announced that Gareth Thomas has joined Forex ECN FastMatch as Director of Sales effective October 3rd, 2016. Gareth will be marketing