enjoy TRANSPARENT pricing, TIGHTER spreads & NO last look
Daily market commentary: Stocks are drifting lower in Europe today
Refinitiv launches a digital suite of widget capabilities for wealth portals
ANNA launches Technology Taskforce on digital assets
ASIC suspends KP International Group Australias AFS licence
Forex sports sponsorship: MultiBank Group becomes the official partner of BMW M Motorsport
Libras David Marcus initiates positive public relations campaign on CNBC
Bitcoins halving in May 2020 generating interest 7 months before event
GPW starts a crowdfunding programme for brokers
Doo Tech launches MT5 bridge connection to HKEX
Daily market commentary: The pound is likely to retrace some of the recent gains
ATFX UK hires Marc Taylor as Institutional Senior Sales
Trumps former Fed pick launches his own cryptocurrency called Frax
Libra to peg cryptocurrencies to national currencies?
Boerse Stuttgart Groups app BISON launches 24-hour crypto trading
UK FCA warns against several unauthorised companies
DOJ arrests 337 users of global child porn site with BTC investigative tools
ESMA and ASIC to co-operate on Australian benchmarks
Daily market commentary: Brexit keeps on shaking investors minds
Draghis last European monetary policy meeting
HomeForexInstitutionalPrime-of-Prime FX brokerage Stater Global Markets announces technology partnerships, adds CFDsPrime-of-Prime FX brokerage Stater Global Markets announces technology partnerships, adds CFDsInstitutionalMarch 28, 2017byLeapRate Staff
Screenshot of a breaking news alert e-mail from Q2 2017
Please check your email to confirm your subscription
We hate SPAM and promise to keep your email address safex
London-based FX Prime of Prime institutional brokerage Stater Global Markets has announced its core technology partners, as well as the introduction of CFDs in indices and commodities.
LeapRate exclusively reported about thelaunch of Stater Global Marketsin an interview with CEO Ramy Soliman last October. Soliman was most recently VP EMEA Sales at Integral Development Corp. From 2010-2015 he was with Citi heading EMEA Margin FX Sales. He has also worked as a dealer and in Institutional Sales atIG GroupHoldings plc (LON:IGG).
As far as technology partnerships go, Stater has indicated that:
has been chosen as the bridge provider for Staters MT4 White Label solution.
, which recently set up a Point of Presence inHK1 (Hong Kong)andSG1 (Singapore), will provide connectivity.
, a unit of NEX Group PLC (LON:NXG), will provideregulatory reporting services.
Ramy Soliman, CEO of Stater Global Markets explains,
We have spent the last six months assessing the leading technology vendors in this industry across all key areas of the business from front-end platforms and pricing aggregation tools to bridge and connectivity providers. Our strategy is to offer best of breed solutions to our client base and I am confident that our rigorous procurement process has enabled us to identify the highest quality technology partners.
We have not only been reviewing technology vendors but have also been assessing Liquidity Providers in order to offer a greater choice to clients. Our fund and retail broker clients, in particular, were keen for us to extend our product offering beyond Spot FX liquidity and this seemed a natural evolution for our business. We now offer CFDs in indices and commodities, with high quality pricing from our top tier non-bank counterparties.
Stater Global Markets offers clients direct access to Tier 1 bank and non-bank liquidity, clearing and institutional grade technology. The London-based firm is a matched principal broker which takes no risk.  All trades are passed on to Liquidity Providers on an STP basis.
AMF warns against unauthorized binary options trading websites
Bryan Seegers resigns as Co-Head Global eFX Coverage at ADS Securities
Oanda partners with Currenex on new institutional FX trading platform
State Street appoints new Global Heads for Currenex and FX Connect
Ex-employee of Yahoos Forex broker YJFX steals clients data
Daily market commentary: Stocks are drifting lower in Europe today
Daily market commentary: The pound is likely to retrace some of the recent gains
LeapRate is an independent research and advisory firm, specialized in covering the world of Forex trading. We are followed by hundreds of thousands of traders, investors and other FX industry participants via our website, Facebook, Twitter, LinkedIn, RSS and Email Newsletter.
Fortex and Advanced Markets add ex CFH executives for Japan FX Prime-of-Prime unit FAM Clearing
FAM Clearing, LLC, a joint venture between Fortex, Inc., a leading FX ECN trading platform, and Advanced Markets, a wholesale provider of liquidity,
Prime-of-Prime FX brokerage Stater Global Markets announces technology partnerships, adds CFDs
Join now to receive first access to our EXCLUSIVE reports and updates.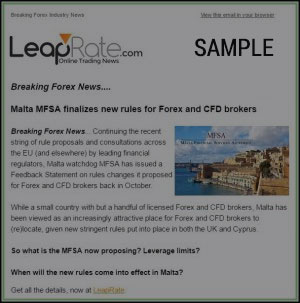 Screenshot of a breaking news alert e-mail from Q2 2017
Please check your email to confirm your subscription
We hate SPAM and promise to keep your email address safe
Bryan Seegers resigns as Co-Head Global eFX Coverage at ADS Securities
LeapRate has learned that longtime ADS Securities employee and Co-Head of Global eFX Coverage Bryan Seegers has resigned his position at the firm. Br