enjoy TRANSPARENT pricing, TIGHTER spreads & NO last look
Kristalina Georgieva the only contender for IMFs top job
As the Bakkt launch date nears, details appear and speculation abounds
New Zealand FMA adds Ashwood Holdings Limited to its warning list
Daily market commentary: The Euro continues to rise
Deutsche Börse opens a new office in Cork, Ireland
Tassat and AlgoTrader to provide institutions access to new XBT/USD swaps contracts
Binance, the crypto exchange powerhouse, is to open Binance US soon
Hong Kong Exchange offers $37 billion to buy the London Stock Exchange
Invast Global adds former Wallaby, Rod Kafer, as Director of Prime Services
Tools For Brokers announces latest iteration of its PAMM system
UK FCA warns against two clone firms, including ICAP Investment
Bitcoin miners now enjoying profits Using to cover Crypto Winter losses
dxFeed and TensorCharts launch platform with full depth CME data
Daily market commentary: ECB further cuts 10 basis points in interest rates
London-based Nickel Arbitrage Fund raises $50 million for crypto fund
Exclusive: How to handle clients payments after FX industry regulations tightening
Bitcoin analyst community stuck on one phrase: BTC is losing altitude
Daily Market News: All eyes on ECBs interest rate announcement
Financial technology company Integrals ADV up 1.2% MoM in August
Advanced Markets Group teams up with retail FX trading tools provider Autochartist
HomeForexLiquidityIS Prime teams up with Tools For BrokersIS Prime teams up with Tools For BrokersLiquidityJuly 23, 2019byValentina Kirilova
Screenshot of a breaking news alert e-mail from Q2 2017
Please check your email to confirm your subscription
We hate SPAM and promise to keep your email address safex
The London-based, FCA regulated firm IS Prime, part of ISAM Capital Markets Group, has just announced that it has integrated its liquidity matching engine with B2B Forex technology provider Tools ForBrokers(T4B) infrastructure.
Jonathan Brewer, Managing Partner, IS Prime says:
IS Prime continues to forge partnerships with leading technology providers in our industry in order to provide enhanced access to our market leading liquidity.
Tools For Brokers is very pleased to have a direct connection to IS Primes liquidity so that our mutual clients can benefit from faster execution and an overall better trading experience. IS Prime is one of the leading Liquidity Providers and we see high demand amongst brokers for IS Primes products.
T4B develops plug-ins and applications for MT4 and 2018, T4B launched an innovative bridge, offering intelligent routing as opposed to aggregation.
IS Prime provides institutional clients with multi-asset execution across Tier 1 aggregated liquidity venues together with Prime Brokerage services and front to back technology. The company is part of ISAM Capital Markets, which also includes IS Prime Hong Kong and IS Risk Analytics. The firm was recentlyfeatured in LSEGs 1000 Companies to Inspire Britain2019 report.
NIBC Bank automates its post-trade operations via Torstones Inferno cloud platform
Standard Chartered Bank becomes a liquidity provider on Digital Vegas Medusa platform
Jump Liquidity joins BidFX as a liquidity provider
ATFX to deliver liquidity solution through a new fintech offering ATFX Connect
Global Prime teams up with Gold-i to offer liquidity through the Matrix Net platform
Daily market commentary: The Euro continues to rise
Daily market commentary: ECB further cuts 10 basis points in interest rates
Daily Market News: All eyes on ECBs interest rate announcement
LeapRate is an independent research and advisory firm, specialized in covering the world of Forex trading. We are followed by hundreds of thousands of traders, investors and other FX industry participants via our website, Facebook, Twitter, LinkedIn, RSS and Email Newsletter.
IOSCO issues statement on liquidity risk management recommendations for investment funds
The Board of the International Organization of Securities Commissions (IOSCO) has just published a statement on liquidity risk management recommendati
Join now to receive first access to our EXCLUSIVE reports and updates.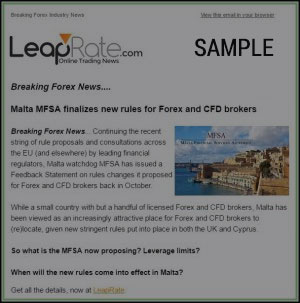 Screenshot of a breaking news alert e-mail from Q2 2017
Please check your email to confirm your subscription
We hate SPAM and promise to keep your email address safe
Standard Chartered Bank becomes a liquidity provider on Digital Vegas Med
FX Options e-trading platform and provider of FX Options trading solutions, Digital Vega, has just announced that Standard Chartered Bank has become a