enjoy TRANSPARENT pricing, TIGHTER spreads & NO last look
Daily market commentary: EU benchmarks remain mixed
Will VanEck Bitcoin Trust be a crypto game changer? Opinions are mixed
ECB board member blasts Facebook and Libra Treacherous Promises
KB TECH upgrades its trading platform KB Trading Portal
The new BUSD stablecoin by Binance and Paxos, NYDFS-approved
Match-Trade Technologies expands with a new office in India
New Zealand FMA adds Coinbrokerz to its warning list
Broadridge acquires Financial Database Services
Daily market commentary: FTSE-100 index trading lower today
Stater Global Markets Founder Ramy Soliman joins as CSO
CLS hires Euronexts Masami Johnstone as Head of Information Services
DTCC and Accenture to manage risks and promote safety across DLT landscape
Bitcoin flipped the chess board over Heading north with new momentum
How will markets react to ASICs binaries ban and CFDs restriction?
Dutch Central Bank will start regulating the crypto sector by January 10, 2020
FXSpotStreams ADV reaches a new record in August, up 19% MoM
CySEC withdraws AIFLNP authorisation of Horizon Investment Fund Ltd.
HomeForexBrokersFX DMA provider Advanced Markets adds Standard Chartered as Prime BrokerFX DMA provider Advanced Markets adds Standard Chartered as Prime BrokerBrokersNovember 12, 2018byValentina Kirilova
Screenshot of a breaking news alert e-mail from Q2 2017
Please check your email to confirm your subscription
We hate SPAM and promise to keep your email address safex
Having Standard Chartered Bank as a prime broker enables us to better serve institutional market participants and further solidifies our standing as a leading prime-of-prime service provider tobrokers, banks and fund managers, said Anthony Brocco, Founder and CEO, Advanced Markets.
Standard Chartered will provide prime brokerage services to thenewly launched FCA-registered Advanced Markets(UK) Limited operation based in London as well as the companys ASIC-registered operation. The companies operate as independent entities and will have discrete prime brokerage accounts at the bank.
Commenting on the new arrangement with Advanced Markets, Matthew Walsh, Head, Prime Services Sales Americas, Standard Chartered commented:
We are pleased to provide FX prime brokerage services to enhance market access for institutional market participants. Advanced Markets transparent, direct market access agency model, which enables clients to trade on top-tier bank liquidity, fits well within our strategy.
Advanced Markets Direct Market Access (DMA/STP) liquidity model, which the firm pioneered upon its launch in 2006, enables FX market participants to trade anonymously on prices streamed by leading liquidity providers in a fully transparent, anonymous market structure. The combination of the firms DMA/STP model and robust low latency trading infrastructure has driven participation from leading brokers, fund managers and other institutions.
The new Standard Chartered facility complements Advanced Markets existing prime brokerage and credit relationship with UBS. In addition to prime brokerage, eligible corporate clients may set up custodial accounts with Macquarie Bank to support trading via Advanced Markets. This structure provides enhanced security because a clients funds are held in its name in a custodial account.
IAM announces financing for JMB Crushing Systems ULC
Coleman Research launches research interactions platform
ADS Securities hires BNP Paribas exec Louisa Kwok to head FX Prime of Prime Sales
GCM Prime launches advanced trading services for institutional market in the UK and abroad
Advanced Markets onboards UBS as prime broker
Daily market commentary: EU benchmarks remain mixed
Daily market commentary: FTSE-100 index trading lower today
LeapRate is an independent research and advisory firm, specialized in covering the world of Forex trading. We are followed by hundreds of thousands of traders, investors and other FX industry participants via our website, Facebook, Twitter, LinkedIn, RSS and Email Newsletter.
Exclusive: Retail FX broker ProbusFX rebrands as SquaredDirect
LeapRate Exclusive… LeapRate has learned that CySEC licensed retail forex broker ProbusFX has rebranded as SquaredDirect (at website squareddirect.c
FX DMA provider Advanced Markets adds Standard Chartered as Prime Broker
Join now to receive first access to our EXCLUSIVE reports and updates.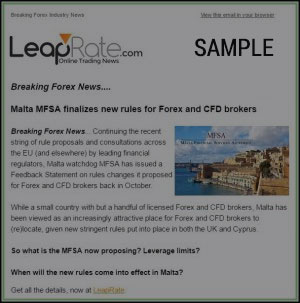 Screenshot of a breaking news alert e-mail from Q2 2017
Please check your email to confirm your subscription
We hate SPAM and promise to keep your email address safe
B2Broker selects SaaS-based IdentityMind for KYC and AML compliance
IdentityMind, Digital Identities You Can Trust, has just announced that B2Broker, a provider of liquidity and technology solutions for the foreign exc