enjoy TRANSPARENT pricing, TIGHTER spreads & NO last look
Whale concentrations in BTC and Tether raising manipulation concerns
Belize regulator IFSC warns against OptimaFX Global Investment LTD.
IG Group publishes annual report FY19: A year of pivotal change
Daily market commentary: Japanese Yen continues to gain ground
Bitcoin growth in 2019 due primarily to institutional investors per reports
Lucrative Pips Corporation involved in a forex trading scheme, fined more than $2 million
GAIN Capitals OTC ADV drops 14.5% MoM in July
FCA warns against Profit Trading Ltd clone firm
FCA warns against Thomas and Ward Advisors LLC
German engineering giant secures a EUR 750m sustainable loan through blockchain
Libra skeptics grow UK Information Commissioner at odds with security
Robinhood enters the United Kingdom with a new license
Bitcoin battering formidable resistance at $12,000, but altcoins sluggish
Thai central bank cuts key rate in response to trade wars and slow growth
The Bitcoin ecosphere is filled with supporters, but skeptics still abound
Edgewater Markets launches Edgewater Digital Technologies
G2 Esports extends partnership with paysafecard
Exclusive: All you need to know to become a Liquidity Provider
ACY Securities appoints Russell Sandiford as Chief Market Analyst
HomeNewsDubai based FX broker Fortress Prime plans for UK FCA licenseDubai based FX broker Fortress Prime plans for UK FCA licenseNewsDecember 30, 2014byMike Fox
Screenshot of a breaking news alert e-mail from Q2 2017
Please check your email to confirm your subscription
We hate SPAM and promise to keep your email address safex
Fortress Prime, a division of Fortress Capital Investments headquartered in Dubai, UAE, has plans to achieve the UK Financial Regulation License from Financial Conduct Authority (FCA), one of the leading regulatory bodies in the world. The highly sought license is a goal of many in the FX business seeking an A+ stamp of approval from the public.
Londons firm global position at the top of importance as a financial hub makes the United Kingdoms FCA a global leading agency which provides regulatory services and supervises the conduct of over 50,000 financially based firms in the UK.
Mitch Eaglstein, an FX industry veteran and now CEO at Fortress Prime, said: This is a critical step in becoming a true global Forex provider as FCA regulations will allow us to provide prime brokerage services to institutional clients in Europe and other mature markets across the globe.
We have established a UK entity that will file for the authorization. A local team will be hired that will conduct our prime brokerage services, Mr. Eaglstein added.
According to a company statement provided to TradeArabia News Service and other Gulf based media outlets, the company which launched its operations earlier this year in September, expects to enhance its profitability and strengthen its balance sheet during Q1 of 2015 due to continued growth in its Forex trading client base in combination with higher trading volume as a result of increases in Forex market volatility.
Fortress Primes outlook on the Forex brokerage market is extremely positive, especially in the Middle East, North Africa (MENA), Asia and Latin America regions.
Eaglstein went on to say: The Forex landscape is changing rapidly due recent increases in volatility and constant evolution in clients expectations. Fortress Prime is seeing substantial demand for gold and silver spot trading with continued interest in retail Forex trading.
Having Sharia account offerings is also essential for the Middle East market and having a physical presence in the region is crucial to conduct the business in accordance to local laws, customs and culture, he further added noting the firms origins.
LeapRate has reached out to Fortress Prime to get more details on the potential London based office. We will bring more details regarding exact timeline and potential opportunities. We will follow up on this story at the appropriate time.
US regulator FINRA fines Mexicos Monex $1.3 million for supervisory failures
Defendents of North Carolina based investment pool scheme ordered to pay over $1.3M
Rosenthal Collins Group names Brian Ager President of new institutional FX division
GAIN Capitals GTX launches live binary market data protocols on its Forex ECN
Daily market commentary: Japanese Yen continues to gain ground
Daily Market News: China to steady its currency?
Daily market commentary: Oil continues its decline
LeapRate is an independent research and advisory firm, specialized in covering the world of Forex trading. We are followed by hundreds of thousands of traders, investors and other FX industry participants via our website, Facebook, Twitter, LinkedIn, RSS and Email Newsletter.
US regulator FINRA fines Mexicos Monex $1.3 million for supervisory failures
Monex Securities Inc. has been instructed to pay $1,100,000 in disgorgement of commissions, plus interest, as well as a $175,000 fine for failing to r
Dubai based FX broker Fortress Prime plans for UK FCA license
Join now to receive first access to our EXCLUSIVE reports and updates.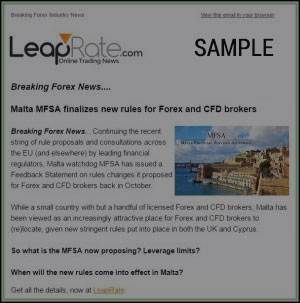 Screenshot of a breaking news alert e-mail from Q2 2017
Please check your email to confirm your subscription
We hate SPAM and promise to keep your email address safe
Defendents of North Carolina based investment pool scheme ordered to pay over $1
Presented as a no risk investment…facts of the case found that of the $583,491 solicited and accepted from pool participants, the defendants l